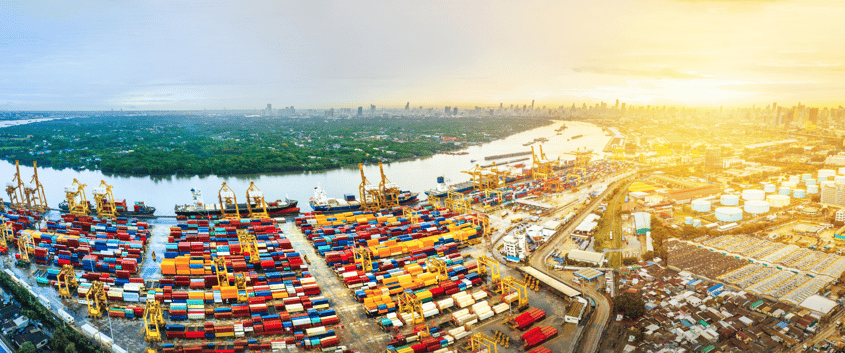 Part 1: Definition through the three (3) Rs of supply chain resiliency
The first of three editions of Expeditors Supply Chain Solutions blog on Supply Chain Resiliency. With supply chains being global in nature, the continual threat of disruption to this system of organizations, people, activities, information, and resources that we call the Supply Chain, is clear. Recent events such as BREXIT, COVID-19, China port lockdowns, capacity constraints, and the conflict in Ukraine are all examples of how these disruptions severely impact the Supply Chain. The effects are severe, and long-term and put an immense strain on business, therefore, increased awareness and heightened focus amongst CFOs & CEOs are needed to drive change. To weather the challenges these disruptions bring, Supply Chains need to be resilient, whilst maintaining their flexibility to aid the evolvement of business growth.

So, what is Supply Chain Resilience (SCRes)?
It's being prepared for the unexpected, responding and recovering to the original state, or moving to a new, more efficient, and resilient one. This can be defined in three states: Resist, Respond, and Recover. We call these the "3Rs" of Supply Chain Resiliency.
If we were to view this pictorially, an example would be the three-legged milking stool. Each leg is equally important in its role in support of the overall purpose (keeping the stool upright) or, in the case of the Supply Chain, maintaining its resilience.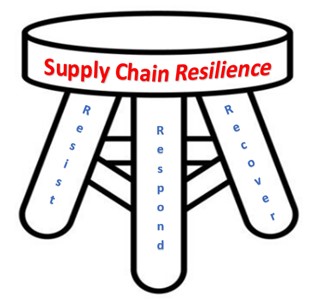 Resist
The goal should be to avoid or at best minimize damage caused by any disruption. The ability of a supply chain to reduce the time between a disruption happening and a full recovery is an indication of the level of resistance. One example of building resistance is the Diversification of supplier and vendor base. This should be viewed as a cost of doing business, rather than inefficiency. Spreading products between suppliers, across countries, or moving to nearshoring, can provide continuity of product flow during disruptions.
Respond
How long does it take to respond to any form of disruption?
The speed any business responds to risks and disruptions in the Supply Chain dictates whether the business faces a small event or a major financial threat. A strategy of preparation and readiness is needed, making use of the available processes and technologies. One example is building a Supply Chain Digital Twin, enabling live data to be used for forecasting and scenario planning. This enables fast decision-making and pivoting in the real-world environment when disruptions hit.
Recover
The ability of a business to return to its original stability and performance levels, or even better move to a new and improved state after a disruption, is vital. The time it takes to recover is directly proportional to the duration and severity of the disruption. Can this time be reduced or managed? Yes, investing in strategies to resist, respond, and recover ensures a Supply Chain is resilient through its ability to adapt and change.
Volatility is ever-present in Supply chains and will continue to drive markets and impact supply chains and focus. Dealing with and managing this volatility is becoming a way of life in supply chain management, driving improving resilience in the supply chain. Supply chain resilience is achieved through design and not by accident. Business leaders are putting strategies in place, building Supply Chain resilience and flexibility, and ensuring continued evolvement leading to business success.
Learn how to develop a resilient strategy in part two of Expeditors Supply Chain Solutions blog series and identify characteristics of a resilient supply chain in our third and final part of this series.