A Customs bond is a contract between three parties (Customs, a principal (i.e. an importer), and a surety) to ensure that all the duties and fees associated with the rules and regulations of importing or other Customs activities are paid to Customs by the principal.
A Customs bond is a requirement to import into the US as per US Customs regulations, and as such an importer should obtain a bond through a reputable and reliable company.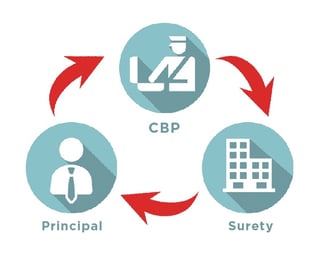 Most bonds are issued through Customs brokers, who work with surety agencies on behalf of the importers. This is beneficial to the importer because a Customs broker has the expertise and relationships related to Customs activity, and can better assist in proactively monitoring the bond and also with resolution of any issues or claims that may arise.
Types of Bonds
Bonds can be written either as continuous (covers all activity within a 12 month period) or transactional, on a shipment by shipment basis.
Most commonly, importers prefer the benefits and ease of having a continuous bond versus filing tedious single transaction bonds. These benefits include lower cost, lower processing time, faster Customs review turnaround, and more robust reporting possibilities.
In addition to basic importer bonds, other common types of continuous bonds include:
FTZ Bonds: an FTZ bond covers and secures Customs regulations related to all foreign trade zone activity, including moving merchandise into foreign-trade zones for operations such as storage, exhibition, assembly, manufacturing, and processing.


Drawback Bonds: covers and secures the activity of duty drawback, a process by which an importer files claims to recover the duty they paid on imported goods if those goods are either exported or destroyed.


Warehouse Bonds: a custodial warehouse bond covers the operations and activities of moving or storing imported goods that have not yet been entered into the commerce of the United States, for export or entry at a later time or place. These goods are referred to as "bonded merchandise" and the bond is required for carriers moving the goods as well as warehouses storing the goods.
Getting set up with a basic continuous bond is simple. Once a completed bond application and indemnity are reviewed and approved, your bond is submitted electronically and on file with Customs within minutes, and you can begin using it right away!
After that, the continuous bond is renewed every year on the anniversary date of its inception. The renewal process gives both the importer and the surety an opportunity to review the bond and decide if any adjustments to the bond should be made.
Interested in Customs bonds? Contact our corporate bonds group to learn more about how Expeditors can help you get set up and manage your bonds.