We concluded last week's blog with tools and approaches to identify key areas of supply chain vulnerability. This week we dive deeper into ways to achieve a state of readiness to respond to ongoing supply chain volatility and recover when a risk event occurs. Although preparedness is commonly used in the context of emergencies or potential disasters, it is relevant to our personal lives – let us consider preparing for retirement. Preparedness, in terms of a pension or retirement account, gives us confidence that we can have the financial security to support us in our later years. Back to the supply chain and risk exposure. By its very nature, the supply chain is a dynamic ecosystem of interdependent and interconnected functions and companies. These interdependencies are significant contributors to risk exposure. With much of the supply chain outsourced to external parties, a single company's ability to respond and recover from a disruptive event is limited by its weakest partner. A sobering premise indeed.
Have you ever asked yourself one of the below questions?
Do I know what our supply chain looks like, who our suppliers are, or their partners?

Do I see any gaps in our supply chain, and can I quantify them?

Do I have a "plan B" to ensure product flow if disruption strikes?
If you answered NO to at least one of those questions, then it is time to validate the supply chain and prepare. The next disruptive event may be right around the corner.
There are many avenues to achieve readiness. Our focus is to leverage supply chain data to empower agile decision-making. How?
Elevate business analytics capabilities

Invest in a digital twin and conduct continuous scenario planning (or stress testing)
Elevating analytics is a necessary step to move beyond using static spreadsheets and hoping to only understand what happened (descriptive analytics) and why (diagnostic analytics). Today's tools and analytics skills provide insight and intelligence by predicting the performance of specific supply chain designs and finding the best course of action for a given situation. In this case, optimization solves the best solution given a set of parameters (predictive analytics). However, a supply chain rarely operates without variability. A best practice is to supplement the optimal design solution with simulations of different operating conditions to assess how robust or fragile the design is (prescriptive analytics).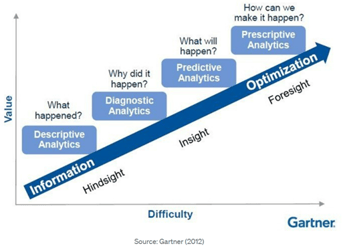 Optimization and simulation are not just concepts, and nice to have competencies and technologies. A recent report from MHI Annual Industry Report (2022), in partnership with Deloitte, found that inventory and network optimization and predictive analytics are two of the fastest-growing technologies that companies are adopting in the next five years!
This brings us to making supply chain design an integral practice of a resilient supply chain. If we agree that design capability is an integral practice, the next question is, how often (or frequently) do you do this? Is it sufficient to plan your disruption response once? If you answered this question with NO, then a digital twin may be for you. Comparing project-based design to a digital twin, you move from a one-time or infrequent approach to an ongoing and continuous approach to enable a much faster time to value. This capability can enable businesses to respond and adapt as conditions in their ecosystem change. When you are focused on establishing an elastic supply chain to bounce back from a disruption, this is one tool that shortens the time horizon to understand how quickly operations return to normal performance levels. It is the very definition of resilience!
With preparations complete and the supply chain design regularly tested, taking action to reduce vulnerabilities and exposure to shocks is the next step.
What actions should I take? There are many, too many to address in a blog. Instead, we present two key topics.
Transform strategic supplier relationships

Deploy flexibility across the supply chain
Why would I want to transform strategic supplier relationships? Across many industries, most of the cost of goods sold can be found in the supplier network. Relationships with these key suppliers matter! While much has been written about what makes a supplier a strategic partner, the time has come to establish equitable partnerships with key suppliers where both parties are mutually dependent on achieving success. Your resiliency is dependent on your supply base!
Remember, the weakest link dictates your supply chain's resiliency. Partnerships should not stop with external parties. Your resilience is also dependent on internal partnerships, so cultivate closer ties between your supply chain and your internal business partners.
Design in Flexibility
Flexibility trumps redundancy, yet both have roles to play in achieving higher levels of agility and resiliency. Part of being resilient is being efficient. It is about the speed at which a company recovers from a disruption or shock. Flexibility is a process, but it is also about structure (aka design). Deploy flexibility across all functions of the supply chain.
Inventory – Safety stock policy and where goods are positioned

Supply - Reserve capacity is sourced and secured

Demand - Shaping and customer segmentation

Fulfillment – Allocation and postponement strategies

Manufacturing – Geographic diversity of manufacturing sites and products they produce

Distribution Network – Multiple locations and reserve capacity with 3PLs

Transportation - Multi-port flow strategy and reserve capacity with 3PLs
Has your company experienced a proliferation of SKUs? Product portfolios significantly influence supply chain flexibility. Reducing the long tail of products, increasing the use of common parts and components, and increasing interchangeability across finished goods are enablers of supply chain flexibility.
In this blog series, we have discussed the three components of resiliency – resist, respond, recover, how to identify exposure and re-prioritize your design, and finally, how to make resiliency a reality. Achieving a resilient supply chain is an enterprise-wide effort and one that will transform your company. It is not easy to implement but given the volatility of ecosystems and a series of compounding risks – it is truly a business imperative!
Final Thought: Resilience is so much more than resisting, responding, and recovering to the original state. It is about thriving!
Catch up on part 1 and part 2 of this blog series to learn:
Part 1: The Three Rs of Supply Chain Resiliency
Part 2: Developing a Resilient Strategy