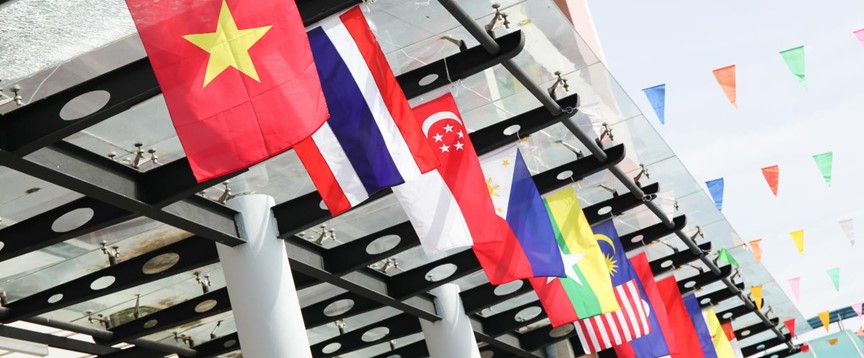 When in doubt, we typically turn to Google. And let's be honest, there was plenty of doubt around March 2020. Google search trends show that at the beginning of the COVID-19 pandemic, the phrase "ASEAN manufacturing" peaked in April. As businesses considered that a single-source approach may not provide the resiliency in their supply chain that they hoped for, ASEAN was top on their list. In this article, we discuss why and what the business opportunity is according to the companies that operate in ASEAN.
Which countries are in ASEAN?
The countries include nominal GDP (descending) Indonesia, Thailand, Philippines, Singapore, Malaysia, Vietnam, Myanmar (Burma), Cambodia, Lao PDR, and Brunei Darussalam. ASEAN ranked fifth in the top ten largest economies in the world (US$ trillion) in 2018.
If any of these countries are on your shopping list of potential new locations for your supplier or factory, we are here to help breakdown some information for you.
How do I choose which country to move production?
While the motto for the region is "one vision, one identity, one community", no two countries are the same. Yet, the ASEAN manufacturing purchasing manager's Index (PMI) is an indication of the manufacturing sector's performance that can be used to help determine which country could be best for you.
The August 2020 PMI rankings for the seven constituent countries were Myanmar (Burma) 53.2; Indonesia 50.8; Malaysia 49.3; Thailand 49.7; Philippines 47.3; Vietnam 45.7 and Singapore 43. While 2020 has been a year of uncertainty and even with the data from the ASEAN Manufacturing PMI, further research is necessary.
Where should I locate my head office?
AmCham Singapore's "ASEAN Business Outlook Survey 2019", states "…Singapore is America's largest trading partner in ASEAN…" and the city-state is the first choice for a growing number of global American companies for their Asia-Pacific Headquarters. Echoing the AMCHAM survey, the "Australian Business in ASEAN Survey" in 2019 reported, "The majority of Australian business in ASEAN operates in Singapore - reflecting its role as a regional hub – with Thailand, Malaysia, and Vietnam also playing host to at least 40% of firms operating in the region." Interestingly, this survey showed that the Philippines is now the most popular market for expansion with 24% of firms planning expansion there.
Although concise, this fact sheet provides important details and statistics of the European Union's (EU) trade with each ASEAN nation.
"In particular, Singapore's well developed infrastructure and lack of corruption have been recognized as the most attractive features of the business climate."

AmCham Singapore's "ASEAN Business Outlook Survey 2019"
The top challenges of operating in ASEAN
The Australian Business in ASEAN Survey from 2019 state the main challenges of operating in ASEAN are
Barriers to ownership and investment

Corruption

Access to skilled labor
With those challenges in mind, the report also states that "…80 percent of Australian businesses surveyed plan to increase their trade and investment in ASEAN over the next five years." Also, the 2019 EU-ASEAN Business Sentiment Survey found that 70% of respondents expect to expand in ASEAN, up from 59% in 2018. Additionally, the AmCham Singapore ASEAN Business Outlook Survey 2019 found that 77% of respondents perceive that their level of trade and investment will increase over the next five years. So, although there are challenges, many businesses from a variety of cultures and backgrounds overwhelmingly see ASEAN as a place to invest.
What is ASEAN doing about safe workplaces?
It is correct for many brands and businesses to be concerned about workplace safety. The International Labour Organisation (ILO) and ASEAN have developed ASEAN occupational safety and health network (ASEAN-OSHNET). The ASEAN-OSHNET practices, initiatives, and guidelines are regularly updated. The documents can be downloaded free from the ILO website, so you can familiarize yourself with them. You could check with any potential supplier if they follow the ASEAN-OSHNET practices. If you are establishing your factory, you could consider them as part of your company's existing OSH compliance programs.
What about the impact on the environment?
The ASEAN Cooperation on Environment website details many of ASEAN's environmental initiatives including Transboundary Haze Pollution and reducing marine plastic pollution. Additionally, many manufacturers are designing into their factories 'green' solutions such as solar panels, water recycling, and so forth.
What is the state of technology in ASEAN?
Technology adoption is a growth constraint for some of ASEAN's economies. Indonesia, with the world's fourth-largest population, desires to be in the top 5 largest economies in the world by 2045. Yet, an ADB study suggests that "…stagnant productivity partly attributed to a lack of technological sophistication…" could hinder that. Nevertheless, there are more mobile phone subscriptions than there are people and over 100 million internet users. Also, Indonesia, Malaysia, the Philippines, Singapore, Thailand, and Vietnam on course to run digitalized economies by 2025.
What customs regulations should I be aware of?
The fundamental customs and trade compliance considerations include HS classification, customs valuation, origin, preferential tariff treatment, duty concession schemes, import/export licensing, export controls, etc.
Understanding the customs and trade compliance environment is critical to considerations involving production shifts or facility relocations. Throughout ASEAN there are manufacturing and export incentive programs that in our experience are commonly under-utilized. A robust trade compliance program ensures that compliance risks associated with cross-border trade are addressed proactively, thereby mitigating risk and minimizing costs. There is a lot of diversity and complexity within ASEAN, in navigating through Customs regulations to ensure a compliant and efficient operation. This is why trade compliance is a critical component of an effective supply chain.
Interestingly, the 2019 EU-ASEAN Business Sentiment Survey found that "94% of respondents would like the EU to accelerate FTA negotiations with ASEAN and its members." The FTA's with Singapore and Vietnam have been well received, yet, this objective is highly desirable as EU businesses have operations across the whole region.
How should I select my logistics service providers?
Most companies do face the obstacle of navigating through the complexities of ASEAN's markets, each with its own unique culture, business, and legislative environments. To adapt to these diverse markets, it is crucial to have access to realerin local knowledge and expertise. Hence, it is important to select a trustworthy logistics partner that supports you in not only transportation but all aspects within your supply chain.
With over 40 years of experience in the logistics industry, Expeditors contains a wide range of experience in air, ocean, and ground transportations. On top of that, our distribution facilities presence across nine different countries combining with our in-house customs brokerage capabilities, we can provide you with a truly end-to-end solution.
Let Expeditors to provide a tailor-made logistics solution for your production relocation plan, giving you localized customer service, experience, and the strength of our global network. Talk to your local Expeditors representative for more details.