Like the summer weather temperatures, risks to pharmaceutical products in the supply chain are on the rise. The increased requirement to record temperature data, especially with controlled room temperature (CRT), +15 to +25°C (+60 to +75°F), has revealed some alarming spikes and focused minds on the need to protect the product.
Academic studies have proven that tarmac temperatures are significantly higher than air temperatures on sunny days. A study conducted at the University of California in 2011 concluded that even springtime temperatures of +24°C (75°F) could lead to tarmac temperatures over +40°C (104°F). As far as extreme temperatures are concerned, we have historically seen temperatures on the tarmac as high as 70°C (160°F) in western European airports. This is a combination of the tarmac being approximately +20°C (70°F) hotter than air temperature and the effect of direct infrared radiation from the sun. Just think about the difference between "air temperature" and "track temperature" when watching the Indy 500!
Obviously, unprotected general cargo is exposed to these kind of temperatures every day. The risk of higher temperatures can be mitigated by the use of thermal blankets or, for more sensitive freight, by upgrading to TC services.
We performed a test with two dummy pallets (A/B) in a customer's parking lot in Northern Italy in 2010 that revealed vast differences in temperature. The first graph shows recorded temperature on the first dummy pallet A, which had no thermal protection, in an ambient air temperature of +32°C (90°F).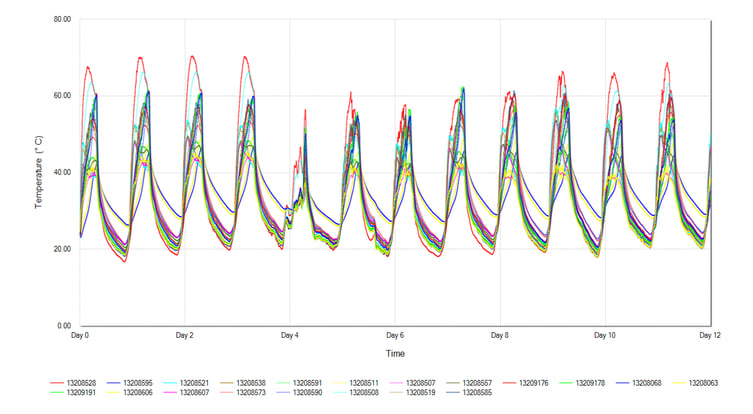 A reflective thermal cover was applied to the second dummy pallet B, which was alongside pallet A. As seen below, the results were dramatically different.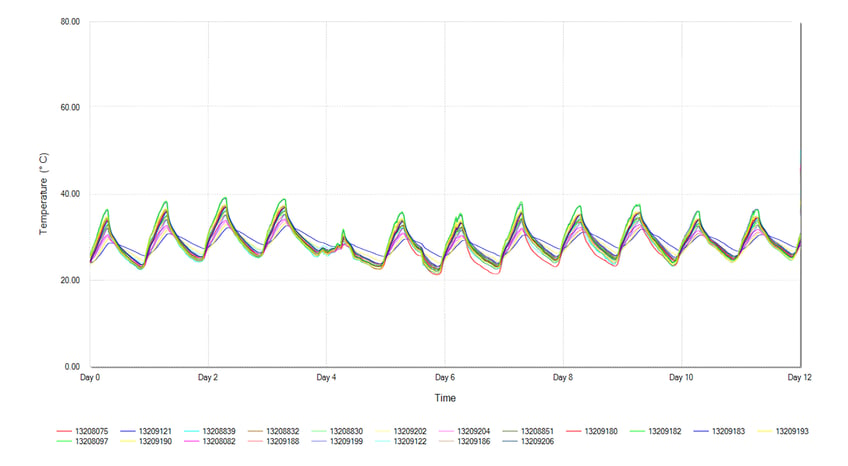 For pallet A, the maximum temperature recorded of the pallet was +70°C (160°F) on day 2 of the 12-day study. Pallet B's maximum temperature recorded (beneath the thermal cover) was +38°C (100°F); a difference of +32°C (60°F) in the same location, in the same ambient air temperature.
Thermal covers, such as the one on pallet B, slow down the rate of heat exchange as well as reduce the extremes experienced. Obviously, more extreme environments will have an even greater effect on the product temperature. For example, Middle East transfer airports can experience ambient air temperature of 50°C (122°F).
Airlines that offer robust temperature controlled services frequently use phrases such as "pre-packaged shipments" when describing their passive (i.e. non-envirotainer) services. It is almost impossible to eliminate a degree of exposure to external conditions during loading and unloading of product at the airport.
Protection from a thermal cover or blanket is highly recommended to mitigate those areas of risk that still exist. If we are talking about general cargo moves, then the airline has an established process that involves zero special handling as the booking suggests. In fact, asking an airline to separate a small number of pallets from their general cargo handling process would affect the entire freight volume moving, due to the huge volumes of air freight every day.
Shipping pharmaceutical drug products, which may involve long, complex routes and require temperature-controlled environments, can be challenging. Exposure to the high and low temperatures at the airport tarmac due to customs delays, packaging breakdowns, incorrect shipping and packing choice, as well as insufficient warehousing infrastructure are all risks inherent in today's global logistics market.
The shipping process is crucial as lives may depend on a drug making it safely from origin to destination, staying within a temperature range, and arriving on-time.
Temperature-controlled packaging can be categorized three types:
Thermal Barrier Solutions (blankets and covers)

Passive Packaging Systems with gel packs or other coolants (including Hybrid Systems)

Active units powered by batteries
When making the choice between active and passive systems, an appreciation of the product and chosen distribution model will have an important impact. The value of the product and the cost of replacement will also influence the decision, the routes, necessary thermal protection, and product volumes.
Thermal Barrier Systems are the cheapest form of protection of the product, followed by Passive. Active solutions are known to be most reliable, but also most expensive.
The below chart represents how cost can impact the performance of the packaging applied.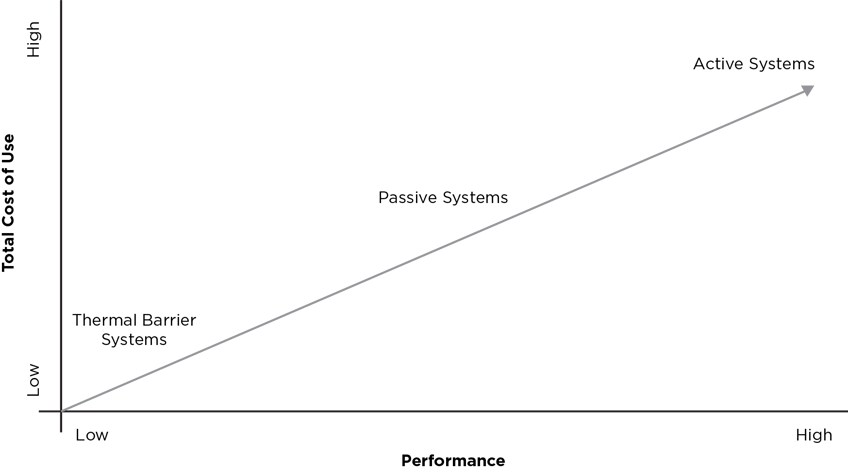 While active systems offer high levels of protection and assurance for high levels of handling, the restrictions on these systems can limit them to direct and inflexible routings. Passive systems offer the flexibility to dispatch specified systems to diverse and flexible destinations, though they do require the provision of preparation facilities at the dispatch site to prepare the coolant.
A thorough understanding of temperature-controlled packaging needs will help determine the best packaging system – whether it be active or passive – in order to provide the necessary protection for valuable pharmaceutical shipments.
Thermal Barrier Solutions (blankets)
Thermal Barrier Systems utilize a layer of insulating material to surround the temperature sensitive product. The systems provide protection against brief exposure to uncontrolled ambient conditions. These are often used to transport "ambient" or "controlled room temperature" product. These systems do not have the capability to control temperatures; they can only slow down the effect of the ambient conditions. Heat transfer will inevitably happen.
Examples of service providers offering thermal blankets:
TP3 Global

Dupont

Polar Thermal Packaging

Q Products.
Passive systems
Traditional Passive TCP systems utilize water filled components coupled with insulation materials to create micro environments inside the system capable of maintaining, for example, +2°C to +8°C (chilled) or +15°C to +25°C (controlled room temperature – CRT).
Advanced Passive Systems utilize water or high-performance phase change materials to provide superior thermal protection. They enable tighter temperature control over a wide range of ambient conditions.
Examples of Service Providers offering Passive Packaging Systems :
Softbox Systems

Peli Bio-thermal

Thermosafe Sonoco

Tower Cold Chain

Va-Q-Tech (Va-Q-Tainers)
It is worth mentioning that there are also hybrid systems available on the market!
Hybrid thermal systems use a combination of coolants, such as water/ice or dry ice and thermostatic heating controls. These systems typically use the coolants to bring down the temperature when necessary and electrical heating units to raise it, which is regulated by some type of thermostatic control to maintain proper product temperatures.
Active systems
Active Systems utilize various cooling/heating methods to provide thermal protection to the payload. Most operate compressor-based systems that are similar to a domestic fridge.
Most of the newer systems require some 'plug-in' time for the system to charge prior to use and the systems may need to be plugged-in during use or at key 'touch points'.
More recently, pharmaceutical companies have been utilizing "Ocean reefer" freight containers to distribute products. Ocean reefers are occasionally used in conjunction with passive systems to ensure robust thermal protection.
Examples of Service Providers offering active solutions:
Active solutions come at a high capital cost, and are almost exclusively leased as per the Master Lease Agreement (MLA) agreed to wither directly with manufacturers of the systems or airlines/steamship lines. In many cases, the need to collect and return these units to a point where re-use can occur adds to the periods of use and transport costs in many cases. Expeditors has Master Lease agreement with Envirotainer, C-safe, and Va-q-tainer.
Our network of airport-based GDP TC hubs allows us to control the condition of our customer's product as close to handover to the airline as possible. Temperature controlled services are audited for their compliance by Expeditors' staff and records of of audits are reviewed by customers and regulators during site visits.
Compliance to service commitments is a key part of the airline service review process. We regularly review airline performance and our GDP incidents database contains records of excursions and the CAPAs associated with them.
Temperature sensitive shipments can be tricky. Get in touch with our logistics experts on how to protect your shipments.