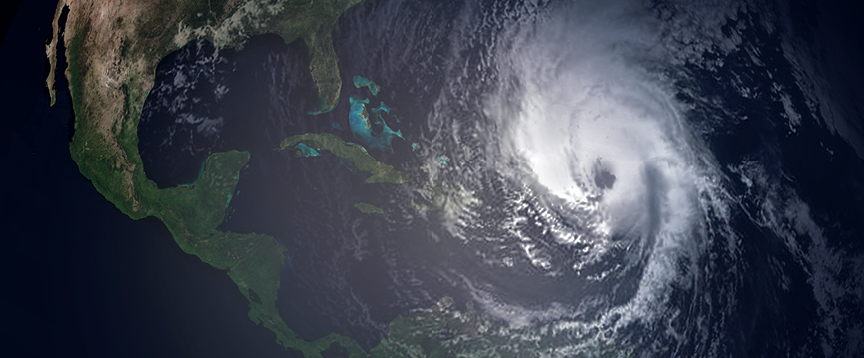 This week our guest blog is from Expeditors Cargo Insurance Brokers (ECIB). ECIB provides supply chain risk management solutions tailored to the specific needs of their clients. Their background in logistics and hands-on approach to claim subrogation provides access to lower rates and broader coverage. ECIB is a wholly owned subsidiary of Expeditors International of Washington, Inc. They are headquartered in Seattle, Washington, with employees located throughout the U.S., Mexico, Europe, Australia, and the Middle East.
The 2017 hurricane season brought many strong storms and widespread destruction to the businesses, homes, and people that were in their path. It will be years before many of these affected areas are back to normal, and some may never fully recover.
While you cannot stop the storms from coming, you can ensure that you do everything in your power to be prepared and ride the storm out as safely as possible. Here are some things you should consider to protect yourself and your property.
Before the storm:
Prior to a storm you want to ensure that anything that is not time sensitive is taken care of. Waiting until the storm is on its way is too late.
Ensure that all emergency equipment is accessible and in working order
The emergency plan has been communicated to your employees
Inspect building roofs and make repairs as needed
Clear gutters and clean run-off areas for drains
Clear objects outside of your facility that are not grounded and could potentially fly away or cause damage
Fill reserve fuel tanks for generators
Review your cargo and property insurance policies to make sure you have CAT coverage for your exposure
Ensure you know who to contact in the event of a claim – time is critical
Confirm you have an adequate supply of plywood, shutters, or other materials that provide protection to your facility – these materials may be hard to get once the storm approaches
Supplies to have on hand:
Plywood, lumber, nails, duct tape, and screws
Power and manual tools
Tarps or other waterproof coverings
Sandbags, shovels, axe
Flashlights and additional batteries
Two way radios with additional, charged batteries
Bottled drinking water, non-perishable food
Additional fuel for generators and other equipment
Emergency lighting
When the storm is approaching:
As the storm approaches it is time to spring into action, follow your plan and make sure you are protecting your people, your product, and your facility. Here are some things to do as the storm approaches:
All stock, materials, and equipment are at least six inches off the floor
Relocate equipment, materials, or information that is critical to running your business, if possible
Secure any portable buildings or structures to the ground
Bring outdoor equipment indoors or secure outside
Install plywood, shutters, or other materials over windows and doors
Properly shut down equipment prior to any loss of power
Shut down electrical or gas services that are not absolutely necessary
Cover equipment, stock, or materials with waterproof materials or tarps
Stop or divert inbound shipments to your facility
While no one can know what the hurricane season may bring this year, taking some of these steps can help make sure you are as prepared as possible.
If you have questions on your current insurance coverage or would like more information on how to ensure you are protected, contact the experts at ECIB.