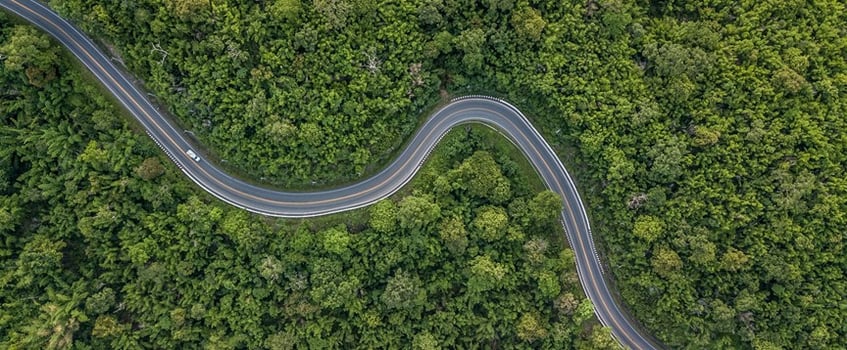 A connected network of trucking routes, crossing six countries and transporting over 15 million kilograms in 2019. The Association of Southeast Asian Nations (ASEAN) Road Network is a great alternative to the traditional shipping options, especially in times of disruption. ASEAN countries include Indonesia, Thailand, Singapore, Malaysia, Philippines, Vietnam, Brunei, Cambodia, Myanmar (Burma), Laos.
We are going to review some of the ways that this other option can be a powerful tool for your supply chain. Understanding these reasons will help you uncover opportunities and help bring solutions and value to your supply chain.
Cost vs. transit time
Capacity flexibility
Compliance
Security
Cost vs. Transit Time
Traditionally, companies have been faced with two options for international transport: air and ocean.
Air offers a low transit time, but comes at a high cost
Ocean offers a higher transit time, at a much lower cost
Expeditors' ASEAN Road Network fits in the middle on both of those scales:
Lower cost than air
Faster transit than ocean
For customers who may have previously needed to convert ocean shipments to air to meet a deadline, the ASEAN Road Network is an alternative which can help you achieve the deadline without paying the full cost of air.
Similarly, for those customers that are currently using air and may have previously considered converting some of their shipments to ocean in order to achieve cost savings, but have been reluctant due to the impact that the increased transit time might have on their supply chain, the ASEAN Road Network is an alternative which offers cost savings compared to air, with a faster transit than ocean.
Capacity Flexibility
For about half of the year, rates and capacity in the air and ocean market are fairly stable. However, there are peak periods throughout the year where we tend to see rates increase, and capacity becomes challenging to secure.
It is during these times that having alternative options for capacity is important to keep the supply chain moving.
For example, you might be facing a blank sailing or multiple-week backlogs to secure a booking on a vessel. Or you might be hesitant to pay peak season air pricing to get your goods to their destination.
When space is tight for ocean cargo, and rates are high to move via air, it's important to have an alternative. The ASEAN Road Network can still get the shipment directly to the consignee's door with a good transit time, but also at a reasonable price.
Compliance
Upholding a compliant supply chain is a high priority for companies in all industries. Cross-border trucking has traditionally been considered a compliance risk, or at least a compliance uncertainty, when it comes to the customs and border crossing procedures in many different countries.
The ASEAN Road Network addresses the compliance risks by carefully evaluating the transport companies through our Service Provider Management program to ensure the parties we are dealing with follow our compliance obligations.
To address the border crossing concerns, our Trade Compliance team at Expeditors physically traveled to each border to get a first-hand assessment of the processes and procedures that take place at each location. After inspecting multiple border crossings, an approved route was agreed upon, which Expeditors is confident will ensure shipments are handled in line with Expeditors' and our customers' compliance obligations.
Annual compliance audits of border crossings and service providers ensure the ASEAN Road Network continues to protect our customers.
Security
Another area of uncertainty and concern is often about the security of the product. As cargo travels in sealed containers across various borders and needs to be lifted and loaded from one truck to another in order to comply with vehicle regulations, it is important to maintain control throughout the transit.
Some ways to maintain control and alleviate security concerns is by utilizing:
Live GPS tracking of all vehicles
CCTV inside the container
Truck seal and lock bar
24/7/365 monitoring, including unexpected stops or deviations from planned route
In combination, these controls can instill confidence that the products will be safe from damage or theft while in-transit.
Expeditors ASEAN Road networks uses all of the above to ensure that the freight is secure and makes it from point A to point B seamlessly.
Summary
The Expeditors ASEAN Road Network is not intended to remove the need for air or ocean services. It is intended to supplement the traditional modes of transport and provide a viable alternative that can add value in certain situations, especially when the options might feel limited.
Our focus on addressing the below criteria enables us to satisfy customers' primary concerns when they are considering introducing a new mode of transport into their supply chain.
Cost vs. transit
Capacity flexibility
Compliance
Security
If you are interested in learning more, please reach out to your local logistics expert.