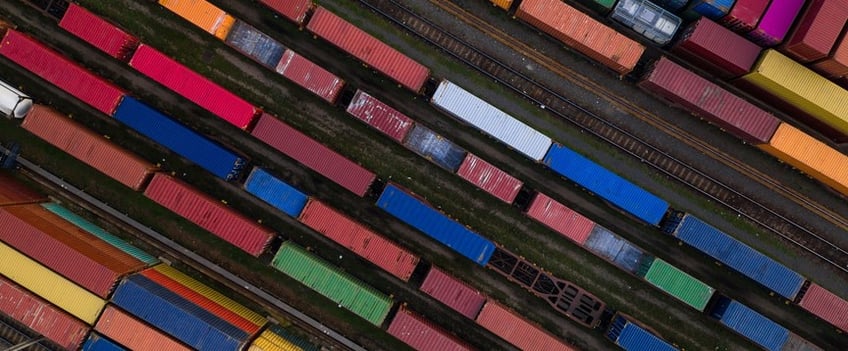 As freight congestion continues in Chinese airports, cargo for air export out of China commonly is sitting in warehouses for days as exporters seek lift capacity. The scarcity of that capacity makes it imperative to identify and consider possible alternatives to airfreight out of China.
Thankfully, there are options. We have several possible solutions that can help our customers navigate this period of disruption. If your business requires express solutions out of China either to the United States or to Europe, we have time-definite ocean and rail services that can help meet your needs.
Express Ocean Services from China to the United States:
For your shipments into the United States, we offer fast ocean freight options for both full container loads (FCL) and less than container loads (LCL).
Fast FCL
Customized solutions with combined service offerings based on your day-specific transit requirements bring velocity to your supply chain. This service offers the fastest transit from Asia to the US and is less expensive than air freight service, proving to be very cost-effective.
Your freight will move via ocean on our existing contracts out of China to the U.S. west coast with transit time as short as 10 days. From there, your shipment is immediately moved out of the port for delivery to your door location via express rail or transloading at the first port of unlading and final mile delivery via team truck drivers.
This service is supported by Expeditors advanced online tracking system and reports, allowing the cargo to be efficiently tracked and monitored at all times.
LCL Express Platinum
LCL Express Platinum offers the fastest LCL ocean service available from Asia into the United States. Currently, this service transports cargo from Shanghai to Los Angeles with an ocean transit time as fast as 10 days. LCL Express Platinum utilizes faster vessels, offers a single day of dwell time when entering the U.S., and is cheaper than airfreight.
Once your cargo reaches Los Angeles, we can service any of your delivery locations in the United States. This map represents transit times from CFS (container freight station) departure date to U.S. door destinations: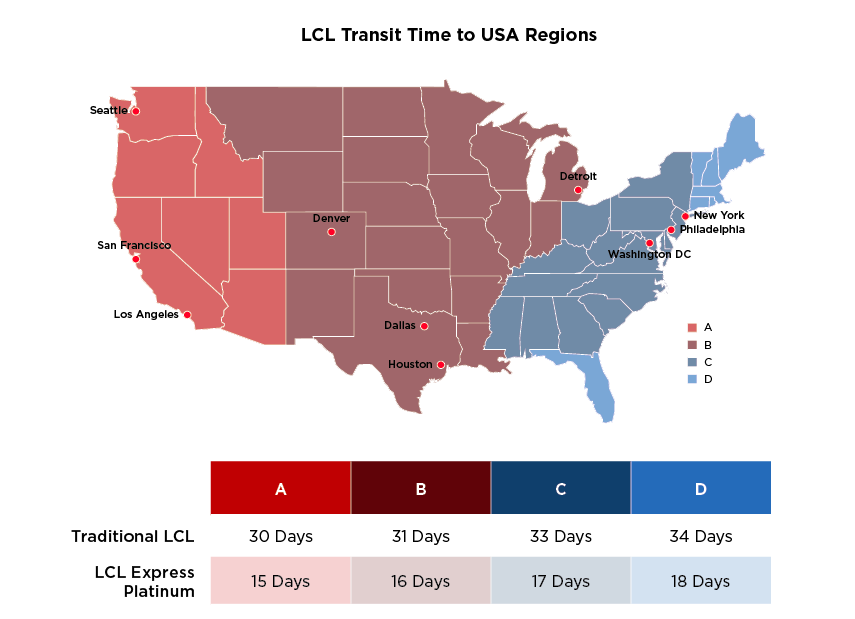 LCL Express
LCL Express is a specialized service available from ocean ports in Asia to most door destinations in the United States. LCL Express is faster than traditional LCL, but not as fast as LCL Express Platinum. LCL Express has quicker port turn times and inland deliveries than traditional LCL and it is significantly cheaper than airfreight.
Rail Express (RCX) Service from China to Europe:
In addition to our eastbound and westbound FCL services between Europe and China, we also offer express rail solutions for LCL. The RCX service from China to Europe has a fixed weekly departure and a fast 13-day transit time from the Xian Rail Station container yard to the container yard at the first entry terminal in Poland.
RCX service starts in Shanghai, stops in Warsaw, Poland, and ends in Dusseldorf, Germany. From Warsaw and Dusseldorf, our rail deconsolidation centers and network can service all European destinations. For destination delivery, we utilize our own transit hubs, line haul network, and closed-loop ground network service to provide seamless links for FCL and LCL shipments.
Our rail service providers are recognized for providing best-in-class secure block train, partial train, or single container loads.

While there has been additional strain on supply chains, we are ready to support and provide innovative solutions for your company. Reach out to our experts today.