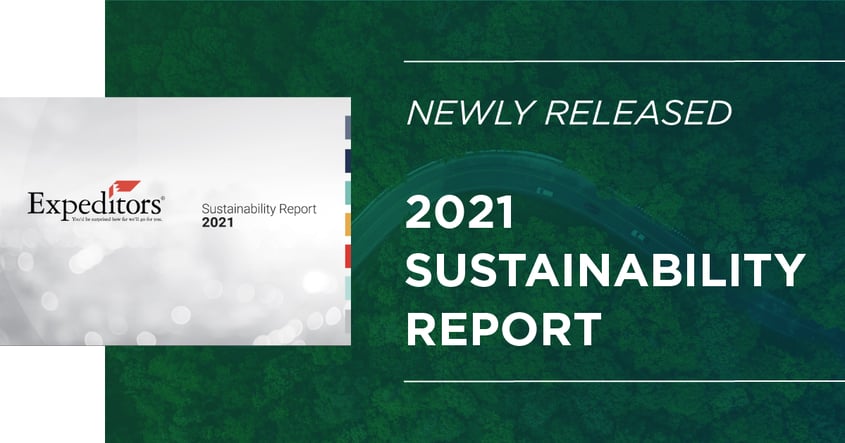 Friday, April 22 is the day we celebrate Earth Day, however at Expeditors, our efforts around sustainability happen every day across our global network. We take sustainability seriously, and we are happy to present our current Sustainability Report, which we update annually to highlight our continuous progress and latest achievements. We are proud of the fact that these achievements are a natural consequence of executing our core business strategy effectively and ethically.
Progress Rooted in Our Business Model
We launched our first Sustainability Report in 2016. Since then, the landscape we all operate in has changed significantly. What hasn't changed is Expeditors' commitment to the fundamental values of good environmental, social and governance practices. This commitment is part of our business model and is reflected in multiple, long-standing mechanisms that we have put in place to promote the best interests of all Expeditors' stakeholders – including our customers, employees, service providers, communities, and shareholders.
Our core business, freight consolidation, involves the combining of multiple different shipments in an efficient manner in order to maximize space utilization and, consequently, minimize the consumption of resources. Our business saves money for our customers while being measurably better for the environment by reducing unnecessary waste.
Key Highlights
We invite you to explore our new Sustainability Report, which covers in detail our Environmental, Social (consisting of Social Responsibility and Security, Health & Safety), and Governance programs (i.e., "ESG"). Some of the highlights you'll discover:
How we made special efforts this year to recognize and appreciate our trucking, airline, and ocean carrier partners for their hard work in the face of what at times felt like impossible circumstances in the global supply chain;
How, on the environmental front, we made additional strides in 2021 both to manage our own Greenhouse Gas emissions and to help our customers eliminate waste and pursue their own supply chain transformation strategies;
How in 2021 our Security, Health and Safety teams leveraged our Business Continuity Plan to continue to protect our people during the continued global COVID-19 pandemic; and
How we, as a non-asset based provider, align our ESG metrics to two leading voluntary disclosure frameworks, the Sustainability Accounting Standards Board (SASB) and the Task Force on Climate-related Financial Disclosures (TCFD).
For us at Expeditors, the call to action for all of our ESG programs is to focus on concrete activities that make a difference to all of our stakeholders.
We hope that our new, updated Sustainability Report will help you learn more about our sustainability story and join us on the journey.