Customer expectations for exceptional service have steadily increased and are constantly fueled by consumer expectations for how quickly buyers should have access to the products and services they need and want.
Below are two important service offerings that will help boost performance of your domestic supply chain and heighten the experience of your end-customer.
Time Definite Service
Expeditors Transcon offers a suite of Time Definite solutions managed by trained professionals from point of pick-up to final destination. Whether you need freight rushed out on the next available flight or delivered on the third day by domestic ground, we have a service option you can count on. Time Definite solutions can enable you to: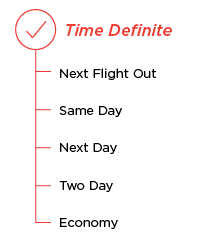 Give your customers the choice of possible delivery lead times
Satisfy tight delivery windows that are the result of
customer requirements
Deliver materials to avoid a disruption in production
With extensive domestic air and ground options, we get your cargo to its destination when you need it. Our experience with various markets, including medical, high tech, automotive, pharmaceutical, retail and entertainment, allow us to expand your competitive edge. Expeditors strives to understand your business drivers and design tailored transportation and delivery solutions to fit all your unique domestic supply chain needs.
White Glove Service
Expeditors Transcon White Glove delivery services go beyond standard dock deliveries and offer all-inclusive end-to-end solutions that can be tailored to any customer's needs. White Glove is ideal for any delivery requiring coordination with a technician or installation crew, and customers across various industries including Technology, Communications, Medical, Retail and Alternative Energy. White Glove services are also commonly used to support trade show events and new store openings or remodels.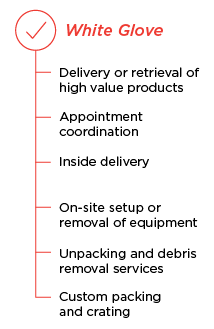 As a result of our vast network of offices, we are able to form global and local relationships with our customer's customer, and act as a single point of contact. We schedule appointment windows with your end-customer that allow us to pick-up and deliver freight at optimum times for you both. Our local operators make sure to contact your customer to understand all requirements before delivery so we are properly equipped to flawlessly execute safe and timely delivery of your goods. Expeditors understands that we operate as an extension of your brand and only partner with local carriers that meet rigorous security, safety and service standards.
Did you know Expeditors offers domestic air, domestic ground and cross-border transportation services everywhere we do business? Although we have provided domestic transportation services for over 35 years, it was not until 2004 that we officially gave this product offering the name Transcon. Expeditors Transcon provides various value added services and partners with you to create customized solutions to fit all your unique business needs.