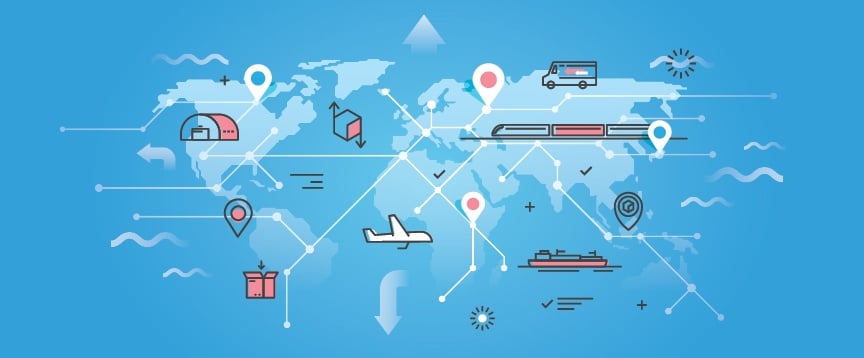 Creating and sustaining a high-performance supply chain in a business environment characterized by constant change is the goal of most companies. And it's a lofty goal, particularly when you consider the increase in complexity, the pressure on cost, and the rising sense of urgency to implement fixes.
Among our customer base, we've noticed a steady increase in the number of companies mounting enterprise-wide initiatives to improve the performance of their supply chains. Although each has their own reason for doing so, the most common catalyst seems to be a group of executives who has "felt the pain," and decided it was time to take action.
Symptoms
Just as symptoms let you know when your body is not well, they let your execs know when your supply chain is not well. Especially when the symptoms are serious.
Some classic symptoms of an under-performing supply chain might be:
High cost
High inventory
Poor customer service
Poor order-fill rates
High spend for expedited freight
Many DC transfers
Surprisingly, it's common to see many of these symptoms manifesting themselves at the same time. Not surprisingly, when there are multiple serious symptoms, the call-to-action isn't too far behind.
Healing
As with any improvement initiative (a.k.a. "healing"), the process begins with diagnosing the symptoms to get to the root cause, since little good comes from treating the symptoms. Treating symptoms is just a good way to burn money.
While the relationship between the symptom, its cause, and the fix is sometimes easy to see, the odds are that those projects are already behind you, and you're left trying to diagnose the less obvious symptoms. When dealing with these, you'll normally uncover a complex web of root causes, many of which are interrelated, so you can't deal with any one of them in isolation.
What does this mean? Well, for starters, is means that designing the "fix" will take considerable analysis and careful evaluation of the inter-dependencies between activities. It also means that decomposing the problem into its individual elements becomes necessary. And, of course, it will take a skillful facilitator who can help find a delicate balance between stakeholders whose priorities are not always aligned.
We're often called upon to work with our customers in doing just such analyses, and the first discussion is almost always the same; "Where should we begin?"
The following diagram depicts a methodology that we've found to be straightforward, and effective.
Diagnostic Methodology
The starting point of any supply chain diagnostic is gathering critical information about the company. The objective here is to gain a clear understanding of its makeup, but more importantly, to fully understand the business drivers that will govern any future improvement initiatives.
The next step is to determine what the optimal levels of performance should be. Doing that means looking at the five measures in the diagram, identifying activities that link directly to each measure, and generating a written statement that defines the optimal levels of performance for each in both qualitative and quantitative terms. The word "optimal" is contextual - the information uncovered when looking at the business drivers in step one are there to provide guidance on how various outcomes might be ranked.
The next step is to look at the actual levels of performance for the same activities that were looked at when determining the optimal levels. Armed with these contrasting outcomes (optimal versus actual), the performance gaps become the target areas for improvement initiatives.
Of course, if an executive calls you in and says "we need to reduce cost," the process above can be short-circuited; you get your "target area for improvement initiatives" handed to you!
Next, we need to mine for root causes of these performance gaps. This involves two sequential steps:
Listing out the performance drivers
Listing out the performance levers
Both tasks are cumbersome, but necessary. Especially when dealing with a problem that has a complex set of root causes.
Performance drivers can be defined as "activities that influence performance." For example, if you're looking for a cost reduction, the cost drivers are activities that produce or influence cost. The same is true for any measure.
Performance levers are actions you can take to influence performance drivers. For example, if one of your cost drivers is manual data entry, a lever might be EDI or scripting. If a responsiveness driver is inventory proximity to customers, a lever might be network re-design. And so on.
The process is actually very simple, and should not take very long to complete. Typically, a half day workshop with subject matter experts and process owners can yield a laundry list of ideas with potential to improve supply chain performance in the areas that have your executives' blood pressure up..
The key is, of course, bringing these ideas to life!
Want to schedule a workshop with our supply chain experts? Contact us today!