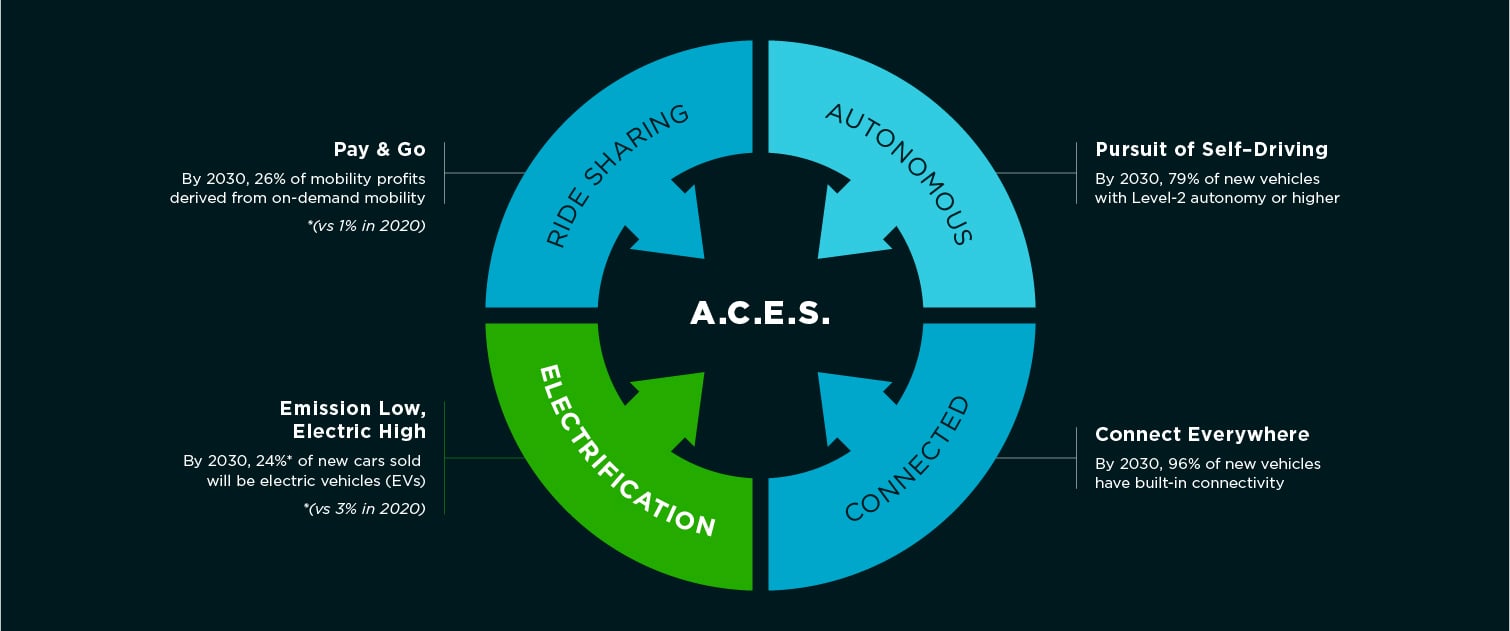 The advancement of new technologies has allowed radical change in the automotive and mobility industry. The excitement driving this change is ACES, the Center for Automotive Research's acronym for four key technological trends in future mobility: Autonomous, Connected, Electric, and Shared vehicles. According to the research center, ACES "will enable new mobility paradigms, new companies, and new business and revenue models that have the potential to alter the way consumers interact with vehicles." We see elements such as production design, aftermarket, and e-commerce fulfillment's role in purchasing and supplying parts to finished products resonate in all areas of the automotive and mobility industry.
Autonomous
Understanding the potential transformation autonomous driving could have on this industry has played a crucial role in leading the next generation down a path of new resources for functionality and connectivity. There are levels 0-5 on the vehicle autonomy scale. By 2030, 79% of new vehicles will have Level 2 autonomy or higher. Level 2 means the vehicle will have advanced driver assistance systems (A.D.A.S.). The vehicle can control both steering, accelerating, and decelerating. Automation at this level falls short of self-driving because a human sits in the driver's seat and can take control of the car anytime.
Connected
As the advancement of connectivity rises in industries across the board, the use of technology in the automotive industry expands and develops based on consumer reliability and the enabling of data. It is estimated that by 2030, 96% of new vehicles will have built-in connectivity. The connectivity within vehicle technology is designed to improve passenger safety and vehicle reliability, enable predictive maintenance, improve the efficiency of fleets, and inform other road users and smart city planners about our journeys. Leveraging connectivity can assist in expanding autonomous driving and creating limitless options that allow for improvement in energy efficiency, automotive revenue, and safety features.
Electric
Today's advanced level electrification benefits manufacturers and sellers relying on technology solutions for tomorrow. Electric vehicles are the gateway to energy-saving mobility. The electrification of vehicles and the integration of battery technology have revolutionized the means of mobility. By 2030, 24% of new cars sold will be electric vehicles. This is a 19% increase from 2020. With electrification also comes value-added solutions, operational expertise, and customer enhancement. Expeditors has established supply chain solutions for the mobility sector focused on using new energy technology. Download our flyer to learn more.
Shared
Shared mobility is becoming one of the most popular ways to get around. Cars, public transit, and even recreational vehicles have become common shared forms of transportation. More recently, bikes, e-bikes, and electric scooters are also available in populated areas. But what is in store for the future of shared mobility? According to the Center for Automotive Research, one company states that their car is the future of urban mobility. As it is "the most radical car sharing concept car of all: fully autonomous, with maximum communication capabilities, friendly, comprehensively personalized and, of course, electric." Research shows that shared mobility has grown about 130% since 2013. By 2030, 26% of mobility profits will be derived from on-demand mobility.
What are benefits of ACES?
There is an opportunity for a positive environmental impact, seeing as the electrification of vehicles will significantly reduce carbon emissions compared to the oil-based engines. There is also an opportunity to reduce the number of deaths and injuries from road traffic accidents. Around 90% of road traffic accidents annually are a result of human error, which creates a need for the potential benefits of connectivity. Connectivity includes driver safety elements, such as automatic braking and blind-spot monitoring. The future that lies ahead on the open road for mobility is unique. As technology advances rapidly, autonomy, connectivity, and electrification in the automotive industry increases and strengthens. These technology-driven trends will characterize tomorrow's automotive artificial intelligence and reframe the definition of transportation.
To learn more about ACES and the future of the automotive and mobility industry, read our previous blog posts on this topic:
ACES: Autonomous - Mobility Takes the Wheel
ACES: Connected - Mobility Integrates Technology into the Automotive World
ACES: Electric - Mobilizing Battery Technology
ACES: Shared - Digitalizing Sustainable Mobility