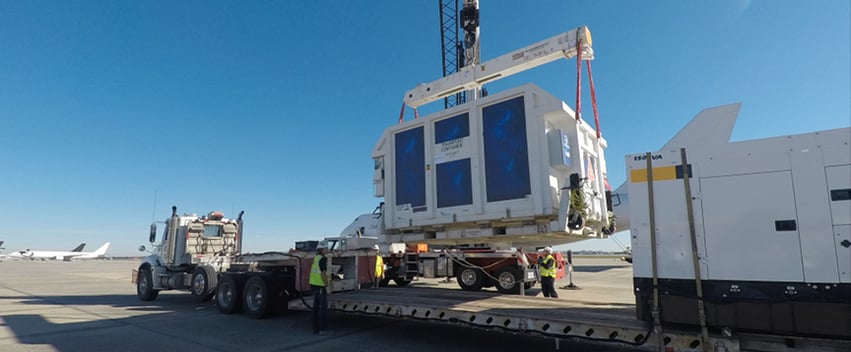 In the current revitalization of space exploration, Expeditors had the opportunity to play a role in expanding the thrilling aerospace industry. This is part one of two in this series, so be sure to stay tuned for part two to dive deeper into this critical mission.
In our ongoing quest to support this growing industry, our aviation experts and the Expeditors' project cargo team, Project & Energy Services, partnered with our exclusive Israel agent, Transworld, to successfully transport the first privately funded lunar lander (Follow its journey in the video below!).
In January of this year, we provided the logistics needed to prepare for this intricate mission, strategically moving the large spacecraft from the manufacturer in Tel Aviv, Israel to the launch pad in Cape Canaveral, Florida.
With high stakes at risk, special attention and careful planning were crucial for this particularly sensitive journey. Beginning in April 2018, Project & Energy Services and Transworld took on the complex challenge of creating an extremely detailed custom plan for transport and loading operations in Israel and the United States.
Our project cargo team is made up of freight experts who specialize in integrated logistics project management, providing unique solutions for oversized and heavy-lift freight. We utilized a variety of transportation modes to develop the most optimal route, ensuring that the massive spacecraft reached its destination according to plan. After 11 months of extensive preparation, we were ready for Phase Two: Execution.
Logistics started with the chartered aircraft that departed Tel Aviv. Our team included over 30 mission-critical team members continuously reviewing details and providing updates throughout the entire process. With oversize freight specialists strategically placed throughout the globe, we relied on our unified network to supervise the move every step of the way.
Once in Orlando, the precious cargo was transferred to specially equipped vehicles that were then escorted by police to arrive safely at its final destination in Cape Canaveral.
Expeditors is exceptionally proud to have played a role in this unique and historical mission.