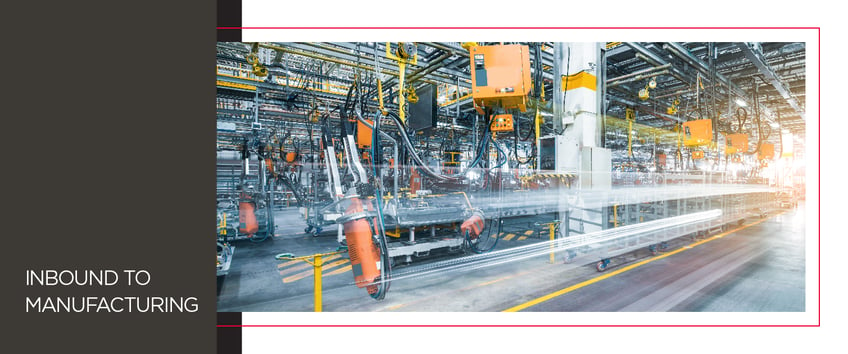 Inbound to manufacturing is a comprehensive solution that seamlessly integrates suppliers' and manufacturers' data to create transparency across global supply chains. This high-level process requires an integrated, connected, and real-time network, from sourcing and transporting parts and raw materials to the manufacturing plant or assembly facility.
At Expeditors, our Automotive & Mobility team uses core transportation integrated with digital solutions that create value, allow access to overall visibility, and provide key information which enables our teams to attend to critical stakeholder needs. We understand the importance of material and part-level information flows moving at the same pace in real time.
Inbound to manufacturing presents opportunities for supply chain advancement through:
Value-Added Solutions

Supply Chain Integration

Customer Enhancement
These supply chain advancement opportunities are a part of our extensive network knowledge. Our dedicated teams, global coverage, and supported automotive centers of excellence are all part of our value-added solutions. Working with our extensive network also provides supply chain integration with industry-specific Standard Operating Procedures (SOPs), real-time visibility, exception management procedures, and global accreditation ISO 9001 and NQC automotive certification. You will receive full customer enhancement services with a full suite of system integration capabilities and equipped core transportation. Monitor your lead time performance to production needs by date, utilize a wide range of customized metrics, capacity initiatives, and global consolidation centers, and gain access to continuous improvement processes and waste elimination.
With a steady upcoming year in the industry, we can expect a variety of management shifts in:
Next generation buyer's consolidation

Managing the upstream supply chain

Managing future emergencies

E-vehicles and battery flows for the next generation of mobility
Follow along in our Inbound Logistics series to read more about our strategies and how we work to provide innovative solutions to prepare our customers for the expansion of mobility.