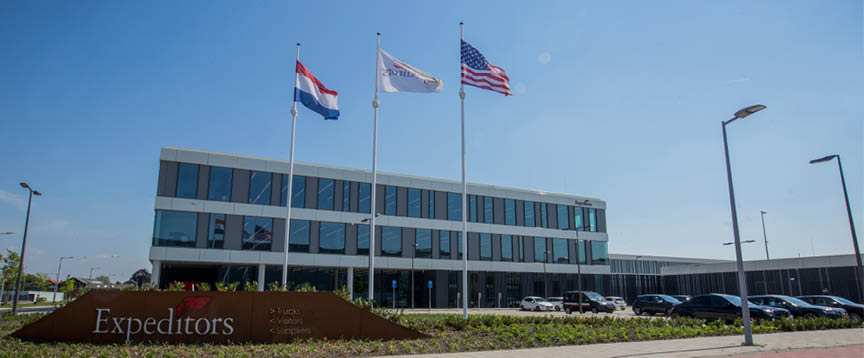 In our ongoing quest to ensure our customers receive the best in class logistics services we continue to invest in our facilities across the globe. Completed in 2018, our Amsterdam facility is a state of the art logistics facility designed to optimize efficiency, productivity, and sustainability throughout our entire supply chain.
Check out our video for a look inside of our facility!
Designed for Efficiency
Having outgrown our facility close to one of the world's major air transportation hubs, Schiphol Airport, we made the decision to invest for the long-term growth of this critical European gateway facility. The facility is designed to serve all of the transportation, logistics, and security needs of our customers and carrier partners. We specifically designed the facility to handle a wide range of cargo, including discreet, sealed areas for refrigerated goods, high-value products, and pharmaceuticals.
A Gateway to Maximize Productivity
Our Amsterdam facility serves as our best example of a gateway facility designed to maximize productivity as we consolidate freight for fast and efficient delivery across our global network. As a GDP (Good Distribution Practice) compliant facility, we are proud to be recognized for implementing consistent quality management systems throughout our entire supply chain.
We combined more than 350,000 square feet of operations in our main warehouse to enhance efficiency and productivity. The work space maximizes our flexibility to accommodate specific logistics needs, with plenty of capacity for additional growth. This larger space also enables us to bring together separate teams under one building, therefore improving our collaboration capabilities.
When taking a closer look at the services we offer, cross-docking and consolidations are proven methods for improving supply chain performance while also reducing storage costs. Additionally, our ULD (Unit loading device) conveyor belt system allows a large quantity of cargo to be bundled in a single unit, allowing for maximum throughput.
Constructed for Sustainability
Our Amsterdam building was also designed and constructed with sustainable materials according to the highest standards of Building Research Establishment Environmental Assessment Method (BREEAM), the gold standard for sustainability in the Netherlands. The facility is recognized by BREEAM for its strict conservation of resources, including water, electricity, lighting, air, and waste.
We invest in our network with you, our customer, in mind so that we may keep your freight moving faster and safer.